Shortly after releasing CrossOver 12, Codeweavers, the company behind CrossOver and Wine, has released a new version of CrossOver. CrossOver is an emulation software for running Windows applications on Linux. Although Steam for Linux has been in public beta for a while now, a lot of Windows applications will probably not be ported to Linux soon. CrossOver closes this gap and allows you to easily install and use a countless number of applications for Windows on Linux.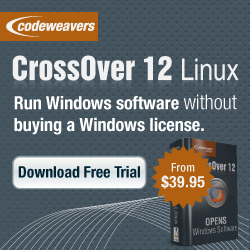 The new version of CrossOver includes, among others, the following improvements:
Stability improvements in Guild Wars 2 on Linux
Numerous improvements and bug fixes in Quicken and Microsoft Office
While CrossOver is a commercial product, the money spent for it will help developing Wine, because it is largely being developed by CodeWeavers.
For anyone who did not know it: Windows applications can be easily checked on SteamForLinux.com for the possibility of running them on Linux using CrossOver.